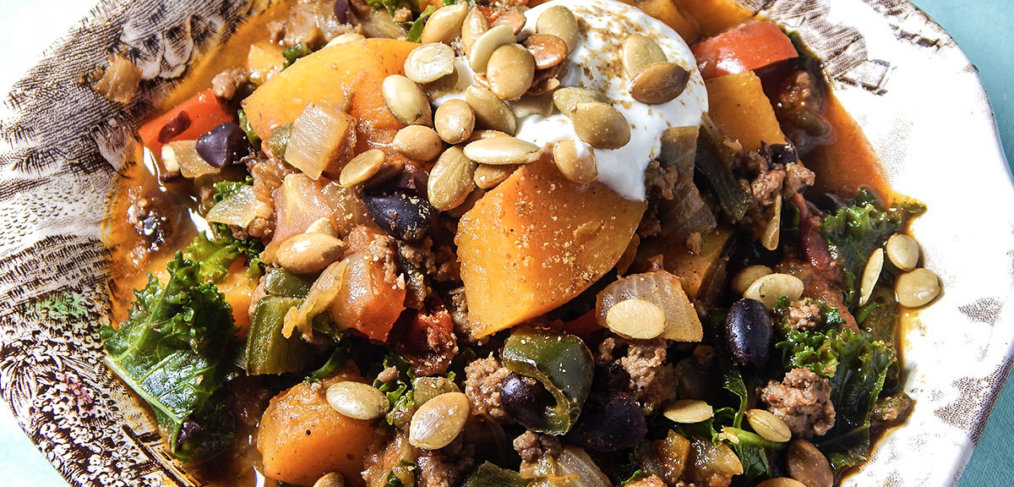 Southwestern Butternut Squash Stew
Makes 6 servings
The holidays are upon us and that means you may be hosting family or time for adult children to come home for the long weekend. While we are in a year that suggests no large family gatherings and I suggest you do what is safest for your family members; this is also a great soup to take to a neighbor or family member who may need a little extra love this season!
The health benefits of butternut squash are fantastic! Butternut is loaded with vitamins A, B, C, E, and zinc, which all help to support your immune system, which this time of year, we know we need that little added extra boost!
This soup is a crowd-pleaser with a little added spiciness and comforting warmth. This holiday season, I pray that y'all will stay healthy and well while still enjoying some Turkey and togetherness.
1 teaspoon avocado oil
1 cup medium sweet onion, chopped
1 red bell pepper, chopped
1 poblano pepper, chopped
1 large jalapeno, seeds removed and chopped
2 cloves garlic, minced
1 pound ground grass-fed beef (95%,5%)
2 large tomatoes, diced
4 cups cubed butternut squash
2 cups unsalted chicken broth
2 teaspoons Ancho chili powder
1 1/2 teaspoons paprika
1 1/2 teaspoons coriander
1 teaspoon ground cumin
1 teaspoon kosher salt
1 (15-ounce) can black beans, rinsed and drained
2 cups chopped Tuscan kale
Garnish: cilantro and sour cream or plain Greek yogurt.
In a large stockpot or Dutch oven, heat oil over medium-high heat. Add onion, peppers, and jalapeno and cook until soft, about 5 minutes. Add garlic, cook until fragrant, about 1 minute.  Add ground beef, cook until browned, about minutes. Add tomatoes and squash, stir until just combined. Pour broth over the squash and add ancho, paprika, coriander, cumin, and salt. Bring to a boil. Cover and cook for 17-20 minutes or until squash is tender. Remove lid, add beans and kale, stirring until kale has wilted and beans are warmed through. Serve with cilantro and sour cream or yogurt.