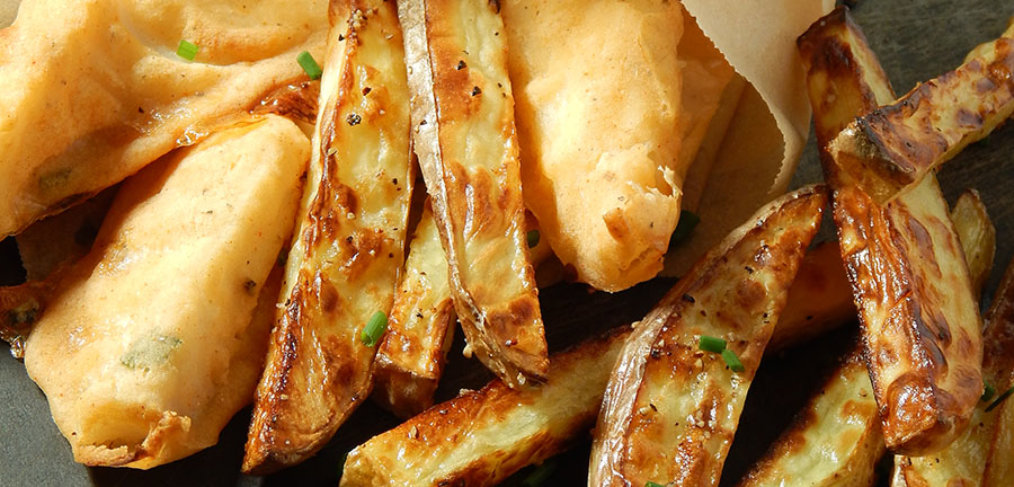 Fish & Chips
Makes 4 servings
I love England. I lived there briefly in the early 2000s and fell in love with the culture, the people, and the street food such as Kebabs and Fish & Chips. Simple, yet flavorful and filling, this is a dish I crave from time to time while imagining myself sitting near the water listening to the boats go by on the River Thames.  This version is baked!
1 ½ pounds fresh cod, cut into strips, about 3 inches long
2 pounds Yukon gold potatoes, cut ½-inch strips
¾ cup rice flour
3/4 teaspoon sea salt, divided
¼ teaspoon paprika
¼ teaspoon onion powder
½ teaspoon garlic powder
1/2 teaspoon ground black pepper, divided
½ cup water
½ cup whole plain, unsweetened Greek yogurt
2 tablespoons malt vinegar* (
2 tablespoons fresh chopped chives + more for garnish
Preheat oven to 450°. Line 2 rimmed sheet trays with parchment paper.
In a medium bowl, whisk together rice flour, ½ teaspoon salt, ¼ teaspoon pepper, paprika, onion powder and garlic powder until combined. While whisking, gradually add the water until combined. Set aside.
In a small bowl, stir together the yogurt, remaining ¼ teaspoon salt and pepper, vinegar and 2 tablespoons chives.
Dip the fish strips one at a time into the rice flour mixture and place gently on the parchment paper. Bake for 10 minutes, turn over; bake about 8 minutes more until the fish is crispy.
Meanwhile, place the potatoes on the other prepared tray. Spray with avocado spray and sprinkle with ¼ teaspoon each salt and pepper. Bake for 18 minutes until crispy and golden brown.
Serve fish and chips immediately with the yogurt mixture and garnish with chives, if desired.
*Substitute with raw apple cider vinegar if gluten-free)