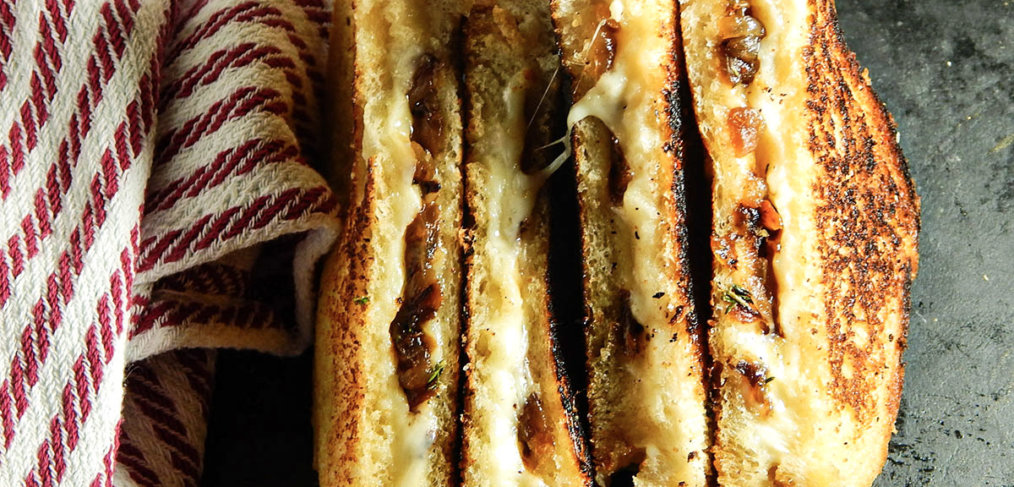 French Onion Grilled Cheese
Makes 4 servings
It's chilly out there with this storm headed our way! Time to get out the soup and grilled cheese recipes, so try out this grilled cheese recipe with the sweet onions and the savory gruyere cheese and dip it into your favorite soup!
1 large Vidalia onion, sliced thinly
2 tablespoons softened grass-fed unsalted butter, divided
1/4 teaspoon sea salt
1 tablespoon sherry vinegar
2 teaspoons freshly chopped thyme
1 1/2 cups grated gruyere cheese
4 slices sourdough bread
In a medium skillet over medium heat add the onions and 1 tablespoon butter. Cook, stirring occasionally until caramelized, about 20 minutes. Add the sherry vinegar and thyme and stir until combined. Remove from heat, let cool for about 10 minutes. Stir in the gruyere cheese.
Spread the remaining butter over one side of each slice of bread.
In the same skillet over medium heat, add 2 pieces of bread and spread the onion mixture over the bread. Top with 2 slices of bread. Toast for about 3 minutes, turn over and toast the other piece of bread. Repeat with remaining bread and onion mixture. Serve immediately.