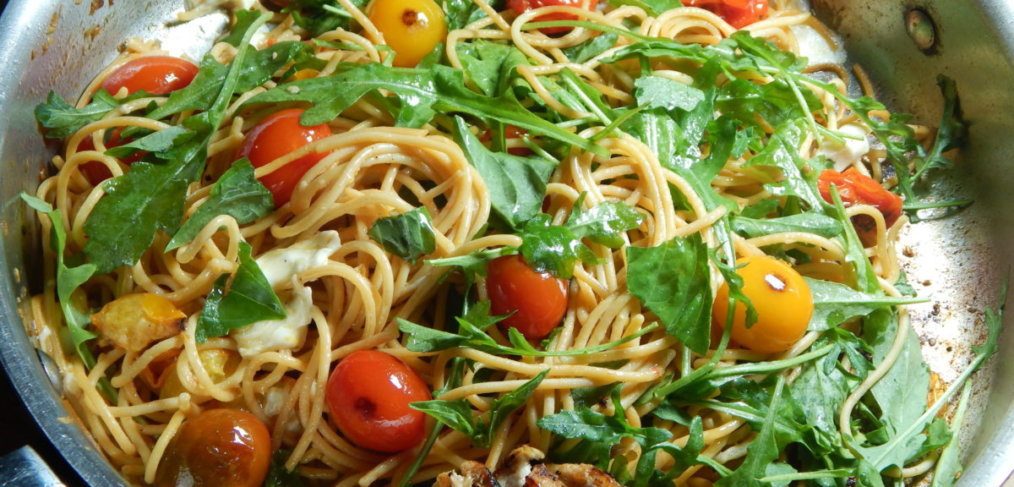 Fresh Tomato Pasta with Fennel Seed Crusted Chicken
Makes 4 servings
This recipes brings out the freshness of the summer. I love having a hearty comforting pasta dish in early summer when it's still a little chilly in the evening. Fresh tomatoes and basil make it feel light and airy and the arugula brings about that peppery feel that resembles a comforting cacio y pepe. Have with a nice glass of Rose and enjoy al fresco!
1 (10-ounce) box Banza spaghetti or other grain free pasta
½ teaspoon fine sea salt
½ teaspoon ground fennel
½ teaspoon lemon zest, chopped
¼ teaspoon granulated garlic
¼ teaspoon ground black pepper
2 teaspoons avocado oil
4 (6-ounce) chicken breasts
2 cups cherry or grape tomatoes
2 cloves garlic, chopped into a paste
1 tablespoon grass-fed butter
1 tablespoon fresh lemon juice
4 ounces fresh mozzarella, torn
4 cups arugula
2 tablespoons chopped basil
Cook pasta according to package directions.
In a small bowl, stir together salt, fennel, zest, granulated garlic and black pepper until combined. Sprinkle over chicken.
In a large skillet over medium heat add oil to pan. Once begins to shimmer, add chicken, cook about 3 minutes per side until cooked through. Remove chicken from pan; set aside on a cutting board. Add tomatoes, let cook, stirring occasionally. Once they begin to burst, add the garlic cloves until it becomes fragrant, about 30 seconds. Using a fork or the back of a spoon, smash the tomatoes to release their juices. Add butter, stirring until just melted. Add cooked pasta and fresh pasta. Stir until well coated with the tomatoes. Lastly, gently stir in mozzarella, arugula and basil. Slice chicken, serve over pasta. Serve immediately.
*Notes:
If you add a touch of pasta water, the sauce becomes a little saucier. Depending on how saucy you want it, adding about ¼ cup of pasta water helps stretch the sauce.
Pound the chicken so that they are the same thickness to make for even cooking.