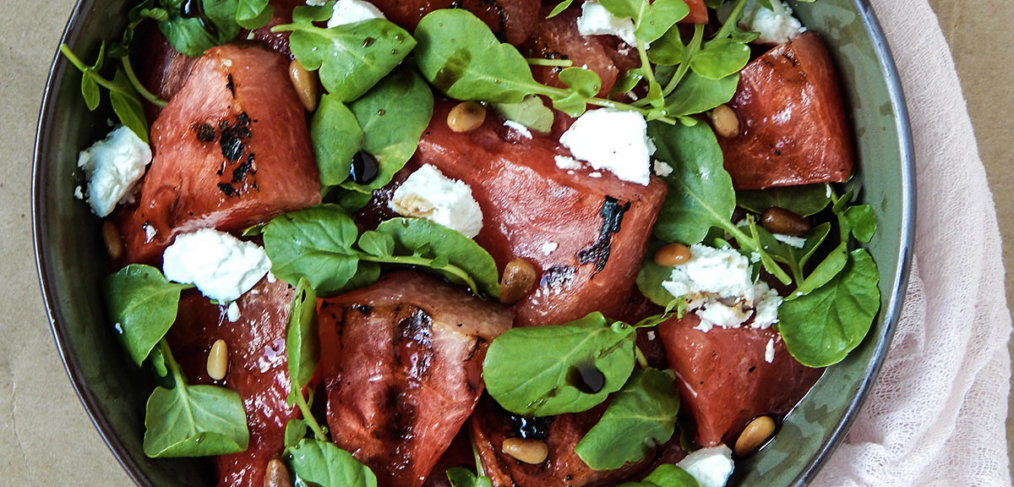 Grilled Watermelon Salad
Makes 6-8 Servings
Happy National Watermelon Day!!! This juicy fruit is a fantastic summer pastime to eat on a hot summer's day at the lake or the beach or my personal favorite, memories of summer camp eating watermelon at our Sunday night picnics. Watermelon also gets a bad rap for not being nutrient-dense or just full of sugar, but not so! It's filled with great vitamins like A and C which are antioxidants and anti-inflammatory plus filled with electrolytes that help with hydration and we know during the summer we need an extra dose of hydration. This is the perfect salad to make for your next outdoor cook-out!
1 small seedless watermelon, rind removed cut into 1 ½-inch slices
4 ounces goat cheese, crumbled
2 cups watercress
¼ cup toasted pine nuts
Preheat the grill to 400°. Place watermelon slices on the grill and grill for about 5 minutes per side until lightly charred around the edges. Remove from grill onto a cutting board. Cut into even cubes. Place in a large bowl and toss together with goat cheese and watercress. Sprinkle with pine nuts and serve immediately.
https://www.healthline.com/nutrition/watermelon-health-benefits