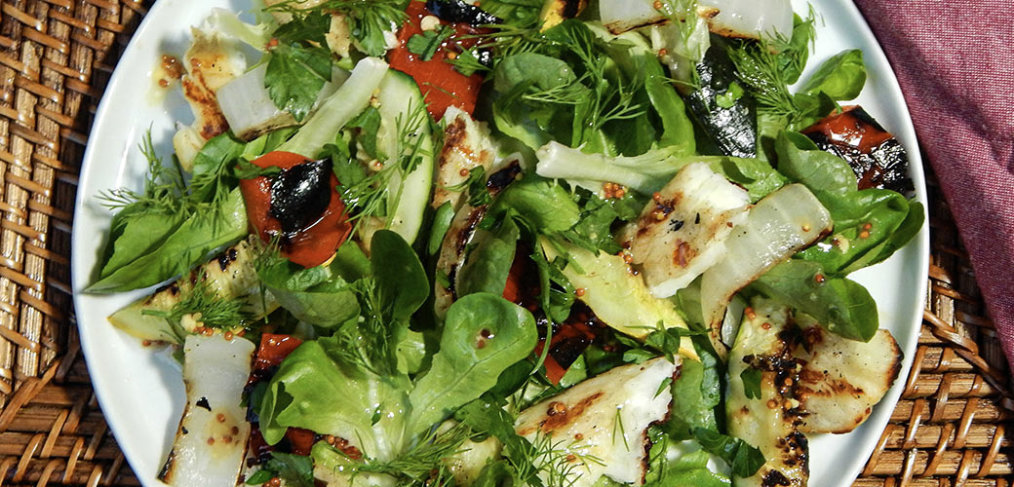 Grilled Summer Vegetable and Halloumi Salad
Makes 4 servings
Looking for a great way to eat all those vegetables from the farmers market, your own garden, or your weekly CSA box? Try out those vegetables in this warm summer vegetable salad or substitute or add any other vegetables like corn, okra, or tomatoes! What makes this salad extra fun is the grilled halloumi, a sheep's milk cheese that can be grilled or sauteed without melting all over the place. If you're in Birmingham or Atlanta, a local sheep's milk dairy, Dayspring Dairy, has a delicious halloumi cheese, that I highly recommend!
Add grilled chicken or shrimp for a little added protein for a complete dinner!
1 large yellow squash, cut into quarters, lengthwise
1 large zucchini, cut into quarters, lengthwise
1 red bell pepper
1 Vidalia onion, sliced into round
1/2 teaspoon sea salt
1/2 teaspoon ground black pepper
1 package halloumi, sliced lengthwise
3 tablespoons white wine vinegar
1 tablespoon whole grain mustard
2 teaspoons Dijon mustard
1 1/2 teaspoon maple syrup
1/4 cup extra-virgin olive oil
3 cups chopped green leaf lettuce
2 tablespoons chopped fresh parsley
1 tablespoon chopped fresh dill
Preheat grill to 425°.
Place vegetables on a rimmed baking sheet or onto a platter and spray with avocado oil spray. Sprinkle evenly with salt and pepper.
Place vegetables and halloumi on the grill. Grill covered for about 3 minutes, turn and grill for 2 minutes more. Remove squash and halloumi from the grill and place them onto the rimmed baking sheet or platter. Turn pepper and grill onions and pepper for about 4 minutes more until softened. Remove from grill.
Meanwhile, whisk together vinegar, mustard, and maple syrup until combined. Gradually whisk in olive oil until combined.
Slice the squash, dice the pepper, quarter the onions rounds, and tear the halloumi into bite-sized pieces. Place into a bowl with the lettuce and herbs and drizzle with the dressing, tossing to coat. Serve immediately.