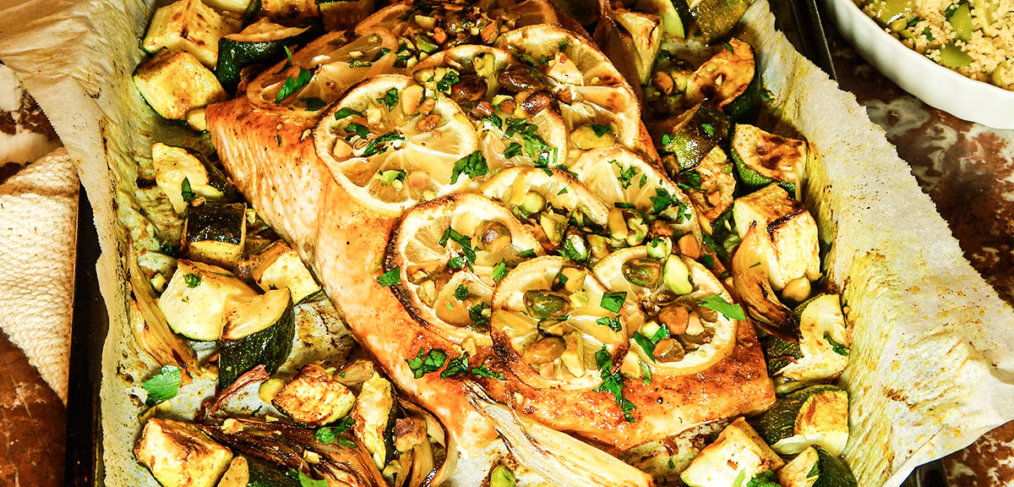 Moroccan Inspired Salmon Weeknight Dinner
Makes 4 Servings
This is quite possibly one of my favorite dishes I have created thus far. Super healthy and packed with a lot of flavor while still being very comforting and homey. If you have adventurous children, I feel like the spices are subtle enough that they won't be overwhelmed.
1 ½ -lb salmon fillet, whole
1 large zucchini quartered and sliced ¾-inch
2 large shallots, cut into 1/8ths
1 teaspoon fine sea salt, divided
½ teaspoon ground sweet paprika
½ teaspoon ground turmeric
¼ teaspoon ground ginger
¼ teaspoon ground coriander
¼ teaspoon ground cinnamon
1/8 teaspoon ground allspice
1 lemon, thinly sliced
1 cup chicken bone broth
1 cup Moroccan-style couscous
1/3 cup chopped green olives, such as castelvetrano
1 tablespoon grass-fed unsalted butter
Preheat oven to 400°. Line a baking sheet with parchment paper. Place salmon fillet in center of pan. Spread zucchini and shallots around the salmon.
In a small bowl, stir ¾ teaspoon salt, turmeric, paprika, coriander, cinnamon, ginger and allspice until combined. Rub spice mixture over salmon and sprinkle remaining over vegetables. Shingle the lemon slices to cover the salmon. Bake in oven until salmon is at medium temperature for 15 minutes or until desired done-ness.
Meanwhile, add broth, couscous and remaining ¼ teaspoon salt to a small saucepan over medium high heat. Once the broth comes to a boil. Remove from heat and let stand for 5 minutes. Fluff with a fork. Stir in olives, dates and butter until combined.
In a small bowl stir together chopped parsley and pistachios, sprinkle over salmon. Serve immediately with couscous.
Recipe Notes:
*Rather than mixing your own spice mixture, you use Ras el Hanout, a traditional Moroccan spice mixture. If you're serving children, there are some brands that are spicier than others, so keep a watch out for that.
*Cooking times may vary depending on how thick your salmon fillet is. Also, adjust the zucchini cut sizes accordingly. If the salmon is very thin, like the tail piece, adjust the zucchini slices to maybe 1/2 –inch so they are not under-cooked and if the salmon is very thick then make zucchini slices thicker so they are not overcooked.