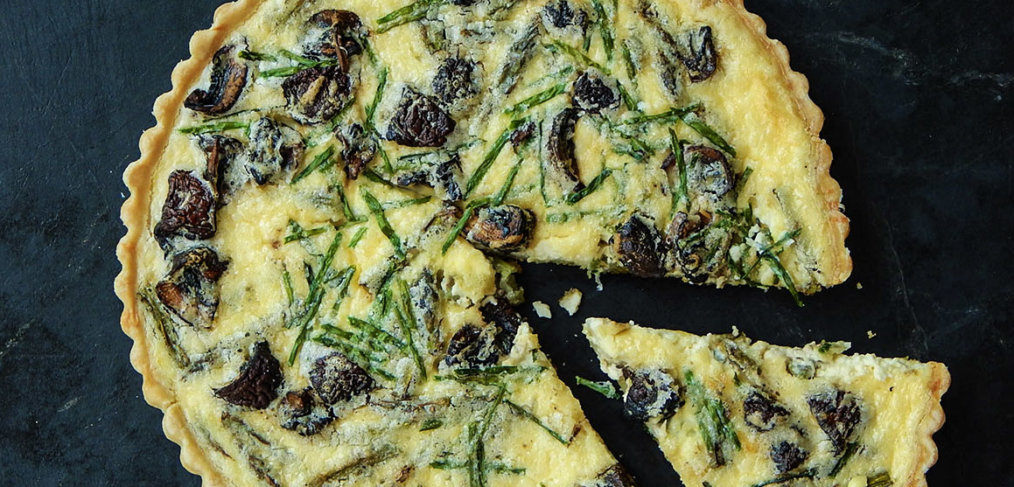 Mushroom Asparagus Quiche
Makes 4-6 servings
Looking for an easy recipe to make for Sunday or Saturday brunch? This does take a little while for chilling the dough, however, it comes together quickly. Serve with a light salad and even some smoked salmon on the side and mimosas, of course!
2 cups all-purpose flour
1 1/2 teaspoon sea salt, divided
3/4 cup cold unsalted butter, cubed
4 large eggs, divided
2 tablespoons cold water
1 cup 1-inch pieces of asparagus
8 ounces cremini mushrooms, quartered
1/4 teaspoon ground black pepper
1 sheet prepared pie dough
1 1/4 cups heavy whipping cream
1/2 cup shredded parmesan cheese
2 tablespoons chopped fresh chives
In the bowl of a food processor add the flour and salt and process until combined. Add the butter and pulse until the mixture looks "sandy". Add one egg and the cold water and process until the dough comes together in a ball. Remove from the processor and cover in plastic wrap and chill for the 30 minutes.
On a lightly floured surface, roll out the dough into a 16-inch circle. Gently place the dough into a 10-inch tart pan and press into the pan and into the edges. With a fork poke a few holes into the base of the dough. Chill in the refrigerator for about 15 minutes.
Meanwhile, preheat the oven to 425°. Line a rimmed baking sheet with parchment paper. Spread the asparagus and the mushrooms evenly onto the pan and spray with avocado oil spray. Sprinkle with 1/4 teaspoon each salt and pepper and roast for 12 minutes or until tender and golden brown. Set aside.
Reduce the oven temperature to 375°.
Line the tart pan with the parchment paper and fill with pie weights or beans. Bake for 14 minutes. Remove the pie weights and bake 10 minutes more until lightly golden. Spread the asparagus, mushrooms and parmesan evenly over the dough.
In a medium bowl, whisk together the eggs, heavy cream and remaining 1/4 teaspoon salt until combined. Stir in the chives. Pour over the asparagus and mushrooms.
Bake for about 22 minutes or until the eggs are set. Remove from oven and allow to cool to room temperature before serving, about 20 minutes.