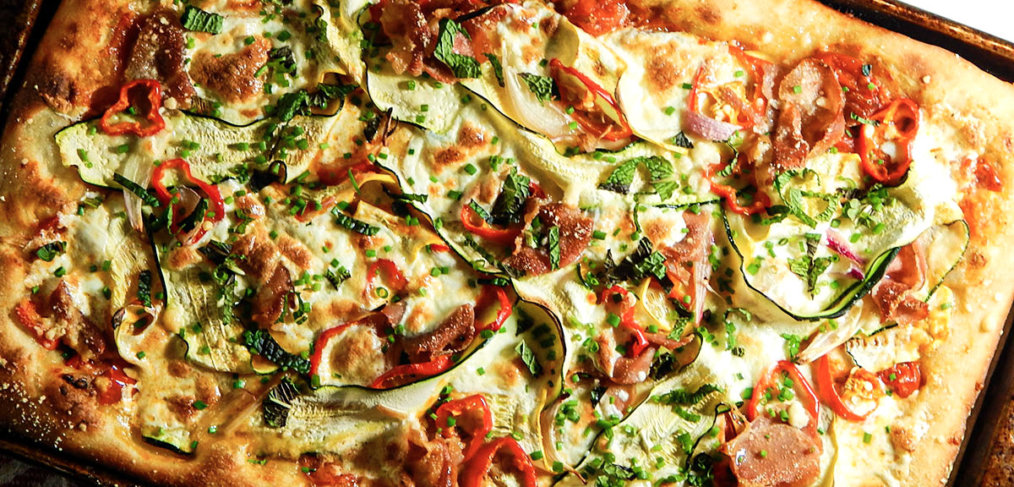 Ratatouille Pizza
Makes 4-6 servings
Summertime is here and it's time to take advantage of all those summer flavors and maybe even some leftover vegetables hiding in your refrigerator!
This pizza is light and fresh, the tomatoes are vibrant while the prosciutto gives it that "I'm standing in the Italian countryside" vibe! Make this on a leisurely summer evening with some light, crisp wine and put together a simple arugula, parmesan, and white wine vinaigrette salad to alongside it!
2 tablespoons grass-fed unsalted butter
2 garlic cloves, minced finely
1-pint grape tomatoes, halved
1/8 teaspoon sea salt
1 pound pizza dough
3 tablespoons extra-virgin olive oil, divide
1 zucchini, shaved into strips
1 yellow squash, shaved into strips
1 large shallot, sliced thinly
2 baby red bell peppers sliced thinly
4 slices prosciutto, quartered
4 ounces fresh mozzarella
2 tablespoons grated Pecorino Romano cheese
1 tablespoon fresh chopped mint
1 tablespoon fresh chopped chives
Preheat the oven to 475°.
Heat butter in a sauté pan over medium heat, add the garlic and cook for about 30 seconds or until fragrant. Add the tomatoes and the salt and cook until they begin to soften, smash lightly with the back of the spoon and stir until a light sauce forms, about 5-8 minutes. Remove from the heat and set aside.
Line a rimmed baking sheet or jelly roll pan (15×10-inch pan) with parchment paper. On a lightly floured surface, roll out the pizza dough to the size of your pan. Brush the bottom of the pan with 2 tablespoons of olive oil. Place the dough into the pan and spread the dough and make sure the dough goes up the sides.
Top the dough with the tomato mixture, then top with the zucchini, squash, shallot, pepper, prosciutto, and mozzarella, spreading evenly.
Brush the edges with the remaining 1 tablespoon olive oil and then sprinkle the pecorino over the top of the pizza and the exposed dough. Place in the oven and cook for about 20-25 minutes until the dough is cooked on the bottom.
Remove from the oven and cut into 6-8 pieces and top with mint and chives. Serve immediately.