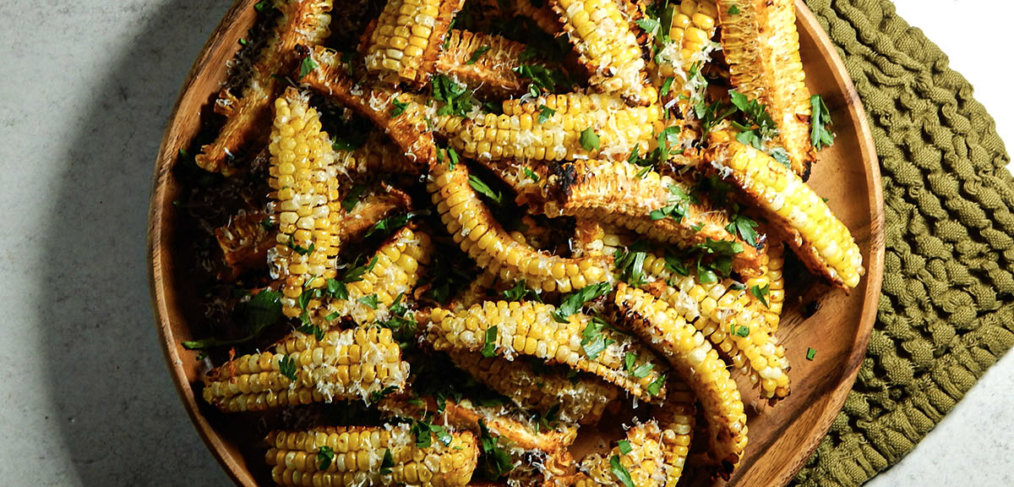 Roasted Corn Ribs
Makes 4 servings
Corn is abundant throughout America, it's juicy and sweet and if you've seen the videos with the little boy who loves corn, it's a favorite vegetable!
This recipe is savory and sweet with a hint of spiciness to satisfy your tastebuds! Plus corn is a good source of fiber and brings in some Vitamin C!
4 ears of yellow corn, shucked
2 tablespoons avocado oil
1 tablespoon chili powder
1 teaspoon paprika
1 teaspoon sea salt
1/4 cup freshly grated parmesan cheese
Garnish, fresh chopped parsley
Preheat the oven to 425°. Line a rimmed baking sheet with parchment paper.
Using a sharp knife, cut the corn slicing straight through the cob from top to bottom in half, then cut each half in half crosswise then lengthwise. There should be 8 3-inch pieces.
In a large bowl stir together the oil, chili powder, paprika and salt until combined. Add the corn and stir until well coated with the seasoning. Place evenly over the corn with the kernels facing up. Roast for about 15-18 minutes or until the ribs curl and the corn is tender. Sprinkle with cheese over the corn and cook for about 1 minute more until just melted.
Serve immediately and garnish with the fresh chopped parsley.