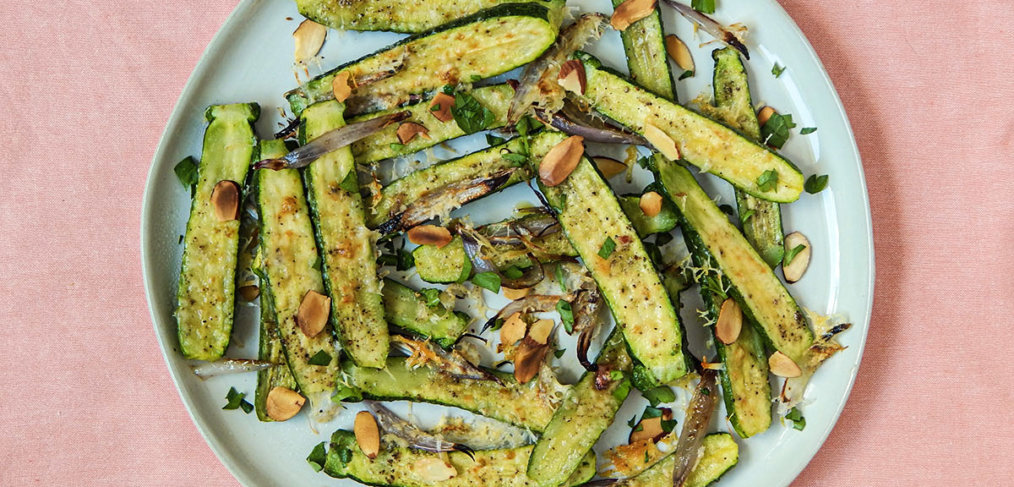 Roasted Parmesan Zucchini
Happy National Zucchini Day! These little beauties grow abundantly during the summer months and we know they can be used in many ways. Roast them, grill them, shish-kebab them, saute them, spiralize them or even boil them in a soup, these are very versatile little vegetables! Whoops, I meant fruit. They're actually fruits that disguise themselves as vegetables and they are packed full of nutrients! Eat them all summer long to help improve your digestion, immune system, vision, energy, and balance your blood sugar!
Roasted Parmesan Zucchini
Makes 4 servings
1 package Trader Joe's mini-zucchini, halved or 2 medium zucchini, trimmed and quartered lengthwise
2 shallots, quartered
Avocado spray
½ teaspoon sea salt
½ teaspoon ground black pepper
½ cup freshly grated parmesan cheese
¼ cup toasted almonds
2 tablespoons freshly chopped parsley
Preheat oven to 425°. Line a rimmed baking sheet with parchment paper. Place zucchini and shallots on pan, spray with avocado oil and sprinkle evenly with salt and pepper. Roast for 10 minutes or until crisp-tender. Adjust oven to Broil, on the low setting. Sprinkle parmesan over zucchini and shallots, place back into the oven for about 2 minutes until the cheese is melted and browns in spots. Remove from oven, sprinkle with almonds and parsley and serve immediately.
https://www.healthline.com/nutrition/zucchini-benefits