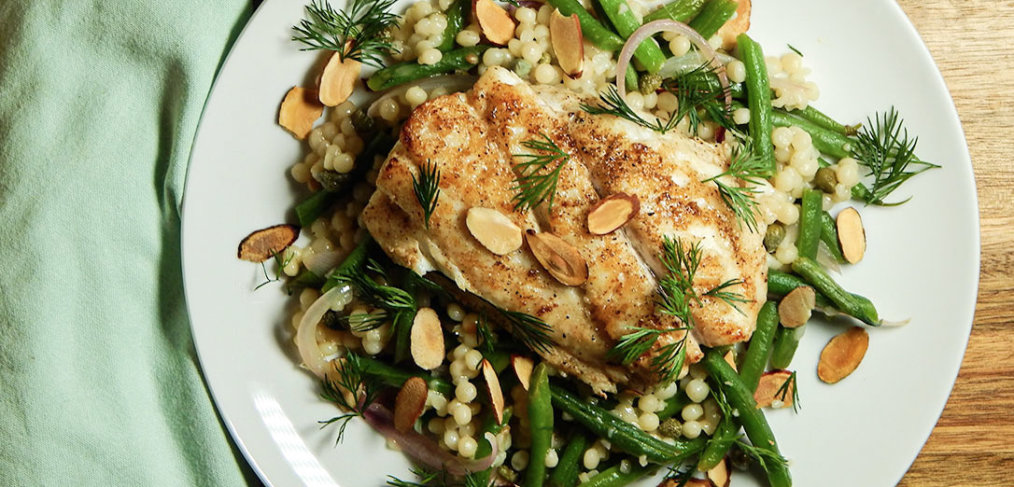 Snapper with Couscous and Greenbeans
Makes 4 servings
This super quick dinner is a great way to spend your Sunday evening and start your week! It only takes about 30 minutes in the kitchen and you get a beautiful, flavorful and healthy dinner on the table with ease! This recipe tastes especially light and delicate, while also giving you that feeling of nourishment and satisfaction.
Pro-tip: Use a fish spatula to flip the fish gently while also tilting the pan to meet the fish halfway since it's such a delicate white fish. Also, make sure that the pan is hot enough, the oil should swirl easily and you can feel heat radiating off of the pan. The cast-iron pan, if seasoned properly should act as if it were non-stick.
1 cup dry pearled couscous
2 cups water, divided
3 tablespoons avocado oil, divided
4 (6-ounce) skinless snapper fillets
1 1/2 teaspoon sea salt, divided
1/2 teaspoon ground black pepper, divided
1/2 teaspoon ground fennel seed
8 ounces French green beans, cut into 1-inch pieces
1 medium shallot, sliced thinly
3 tablespoon grass-fed unsalted butter
2 teaspoons lemon zest, from 1 lemon
3 tablespoons lemon juice, from 1 lemon
1/4 cup toasted sliced almonds
2 tablespoons drained capers
2 tablespoons chopped fresh dill
Preheat oven to 425°.
In a small saucepan combine couscous, 1 teaspoon salt, and 1 1/2 cups water over medium-high heat and bring to a boil, cover and reduce heat to medium-low. Cook for about 7 minutes or until the couscous is tender. Drain and set aside.
Meanwhile, heat 2 tablespoons avocado oil in a large cast iron skillet. Sprinkle snapper fillets evenly with 1/4 teaspoon each salt, pepper, and fennel. Gently place snapper flesh side down and cook for about 3 minutes until golden brown. Gently turn over using a fish spatula and place in the oven for 3-6 minutes.
Meanwhile, in a large skillet over medium-high heat, add green beans, remaining 1 tablespoon oil, and remaining 1/2 cup water, and 1/4 teaspoon salt and pepper and cover to cook for about 3 minutes until tender. Remove lid and allow water to evaporate. Add shallots and cook, until the green beans are lightly golden and shallots are soft. Reduce heat to medium low and stir in butter and cook stirring occasionally until butter melts.  Add in couscous, lemon zest, lemon juice, almonds, capers, and dill stirring until combined.
Remove snapper from the oven and serve over couscous and a lemon wedge on the side.