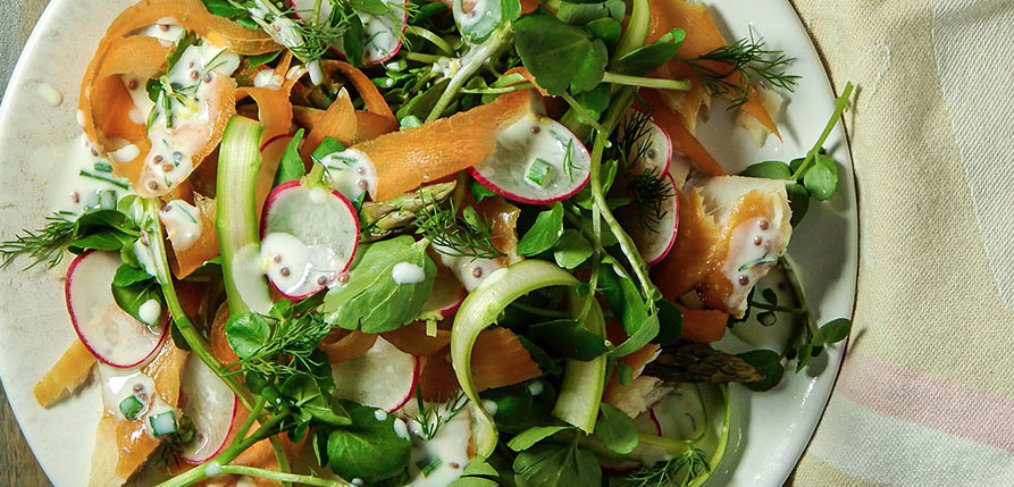 Spring Trout Salad
Makes 4 servings
Long and stressful week? Looking for something that is light and nourishing for Friday night dinner that doesn't take up too much of your time. Quick prep means enjoying these in-season vegetables easily and deliciously while being able to sit down for a little Friday night Netflix. Pair this with a warmed baguette and a glass of Rose and you'll have the perfect evening!
1 (8-ounce) package smoked trout, skin removed and broken into bite-sized pieces
3 medium carrots, shaved into ribbons
5 asparagus spears, trimmed and shaved into ribbons
5 radishes, trimmed and shaved thinly
1 (5-ounce) package watercress
2 tablespoons chopped fresh dill, divided
1/2 cup whole milk plain Greek yogurt
Zest of 1 lemon
3 tablespoons lemon juice
1 tablespoon water
2 teaspoons whole grain mustard
1 tablespoon chopped fresh chives
In a large bowl, stir together trout, carrots, asparagus, radish, watercress and 1 tablespoon dill until combined. Divide evenly among four plates.
In a small bowl stir together yogurt, lemon zest, lemon juice, water, whole grain mustard, chives, and remaining 1 tablespoon dill until combined. Drizzle dressing over the salad and serve immediately.