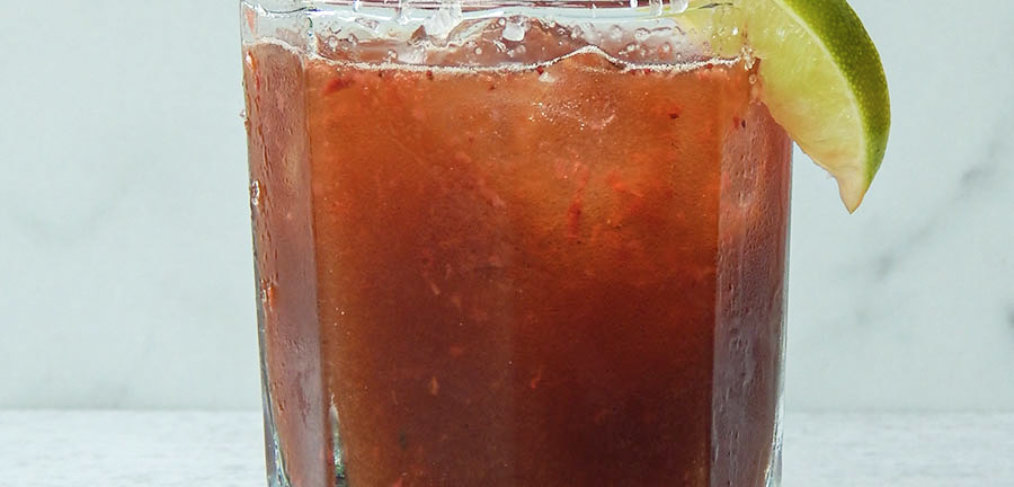 Strawberry Margarita
Makes 1 Margarita
Today is Cinco de Mayo! And I love a good margarita with some chips and salsa. Also, people ask me often about alcohol and maintaining a healthy diet, and I have to say that it depends on the person and the way they feel when their body processes the alcohol. That being said, there is nothing wrong with an occasional margarita to celebrate with some friends on a fun day like Cinco de Mayo! So, go out and enjoy! If you're not into alcoholic beverages, add lime juice and strawberry puree to some Topo Chico over ice and enjoy a little fizzy fun!
1 1/2 ounces tequila
1 ounce orange liqueur
1 1/2 ounces fresh lime juice, about 3 limes juiced
1 ounce strawberry puree*
1 ounce coconut sugar simple syrup (recipe follows)
In a cocktail shaker, add ice with tequila, orange liqueur, lime juice, strawberry puree and simple syrup. Shake until well combined. Pour over a salted glass filled with ice and serve!
Coconut Sugar Simple Syrup
1 cup coconut sugar
1 cup water
In a small saucepan over medium-high heat, add the coconut sugar and the water. Cook until the sugar is fully dissolved. Remove from pan and our into a container and place in the refrigerator to chill until ready to use. Can store up to 10 days.
*For the strawberry puree, place in the bowl of a food processor or in a blender and process or blend until smooth.