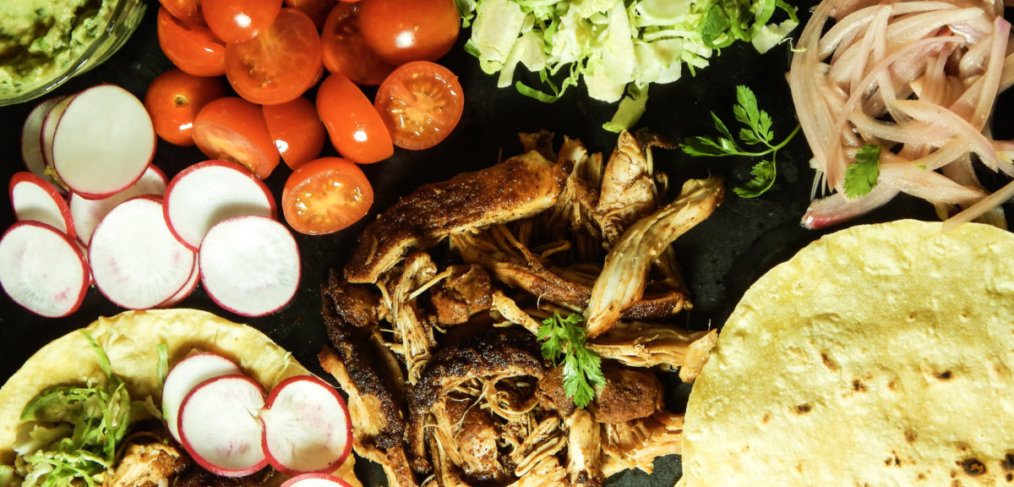 Taco Tuesday Taco Bar
It's Cinco de Mayo and it's time to celebrate with a little Taco Tuesday! The taco bar allows everyone to decide what toppings they want on the tacos. Feel free to mix it up as well! While the chicken cooks, prepare all your toppings for a quick and easy dinner. Pickle the shallots earlier in the day to have them ready to go for the evening. For the adults serve it up with a margarita!
Makes 4 servings
1 teaspoon ground paprika
½ teaspoon ground coriander
½ teaspoon sea salt
½ teaspoon ground ancho chili pepper
¼ teaspoon ground cumin
¼ teaspoon ground cayenne pepper
4 skinless, boneless chicken thighs
2 teaspoons avocado oil
¼ cup chicken bone broth, reduced-sodium or NSA
4 radishes, cut in half and thinly sliced
½ cup shaved Brussels sprouts
½ cup halved cherry tomatoes
½ cup crumbled cotija or feta cheese, optional
8 corn tortillas or gluten-free, grain-free tortillas such as Siete Foods
In a small bowl, stir together paprika, coriander, salt, ancho, cumin, and cayenne until combined. Rub mixture generously all over chicken thighs.
Set the Instant Pot to the "saute" function. Add oil. Once the oil begins to appear glossy, add chicken. Cook on both sides, 3 minutes each side or until golden brown. Add chicken broth, using a wooden spoon, scrape any browned bits from the bottom of the pan.
Seal the top of the instant pot and cook on manual high pressure for 10 minutes. Release pressure. Once pressure has been released, remove the top. Using two forks, shred chicken.
Place chicken, radishes, cabbage, tomatoes, and cotija into individual bowls. Serve immediately with Quick and Easy Guacamole. Pickled Shallots and tortillas.
Quick and Easy Guacamole
Makes 1 ½ cups
2 medium avocados, peeled and seed removed
1 small jalapeno, seeds removed, finely diced
¼ teaspoon sea salt
Juice of 1 lime, about 1 tablespoon
2 tablespoons chopped fresh cilantro
In a small bowl, mash avocado until desired consistency. (I prefer mine a little chunky). Stir in jalapeno, salt and lime juice until combined. Lastly, fold in cilantro until just combined. Serve immediately.
Quick Pickled Shallots
Makes about ½ cup
1 large shallot, thinly sliced
¼ cup red wine vinegar
½ teaspoon coconut sugar
¼ teaspoon sea salt
In a glass or microwave-proof bowl, place vinegar, sugar, and salt; microwave for 1 minute on high. Remove and stir until sugar and salt are completely dissolved. Add shallots. Let sit for 10 minutes, refrigerate until ready to use.