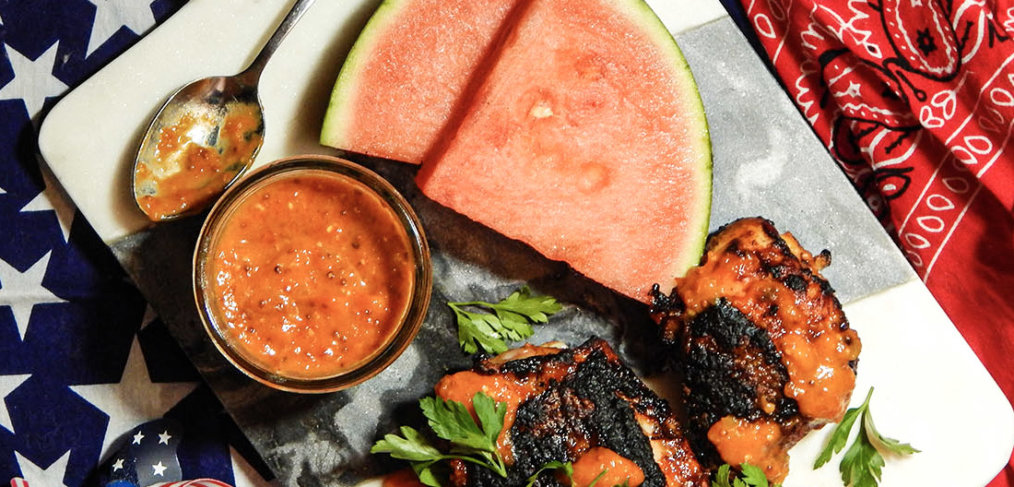 Watermelon Peach Barbeque Sauce with Grilled Chicken
Happy Independence Day, y'all!!! It's time to spend some time with family and friends with good food!!   Are you wondering what you're going to be bringing to the pot-luck this evening! Here is a last-minute recipe to get you ready for your gathering! Try out this simple homemade barbeque sauce recipe made with fresh in-season summer fruits! Heck, you may have a half uneaten watermelon in your fridge or some peaches still from that Farmer's market purchases still leftover and they might be a little too ripe to just bite right into. This recipe is a great way to use those fruits and give them new life!
Watermelon Peach BBQ Sauce with Grilled Chicken
Makes 6-8 servings
1 tablespoon avocado oil
4 cloves garlic, minced
4 cups diced watermelon
2 large yellow peaches, diced
1/2 cup Dijon mustard
1/4 cup whole grain mustard
1/4 cup + 1 tablespoon raw apple cider vinegar
2 tablespoons raw unfiltered honey
2 tablespoons grilled chicken spice mixture (recipe follows)
4 (6-8 ounce) skin-on and bone-in chicken thighs
4 (6-8 ounce) skin-on and bone-in chicken legs
Heat oil in a large saucepan over medium heat, add garlic and cook, stirring constantly for about 30 seconds or until fragrant. Add watermelon and peaches and cook for about 15 minutes, stirring occasionally until softened. Spoon mixture into the bowl of a food processor and processor until smooth. Add mixture back into the saucepan over medium heat and reduce mixture by about 1/4, about 10 minutes. Stir in mustard, vinegar, honey, and spice mixture until combined. Remove from heat and pour into a large bowl and let cool to room temperature, about 30-45 minutes. Reserve about 3/4 cup of the mixture.
Preheat grill to 400°. Sprinkle the remaining spice mixture over the chicken. Place the chicken on the grill skin side down first and cook, covered, for about 6-8 minutes per side until lightly charred. Brush the reserved watermelon sauce over the skin side, which should be facing up. Close the grill and cook 2 minutes more until lightly caramelized. Remove from grill and serve immediately with the watermelon-peach barbeque sauce.
Grilled Chicken Spice Mixture
2 tablespoons smoked paprika
2 tablespoons sea salt
1 tablespoon celery salt
1 teaspoon onion powder
1 teaspoon ground cumin
1/2 teaspoon cayenne pepper
In a small bowl stir together paprika, salt, celery salt, onion powder, cumin, and cayenne until combined.