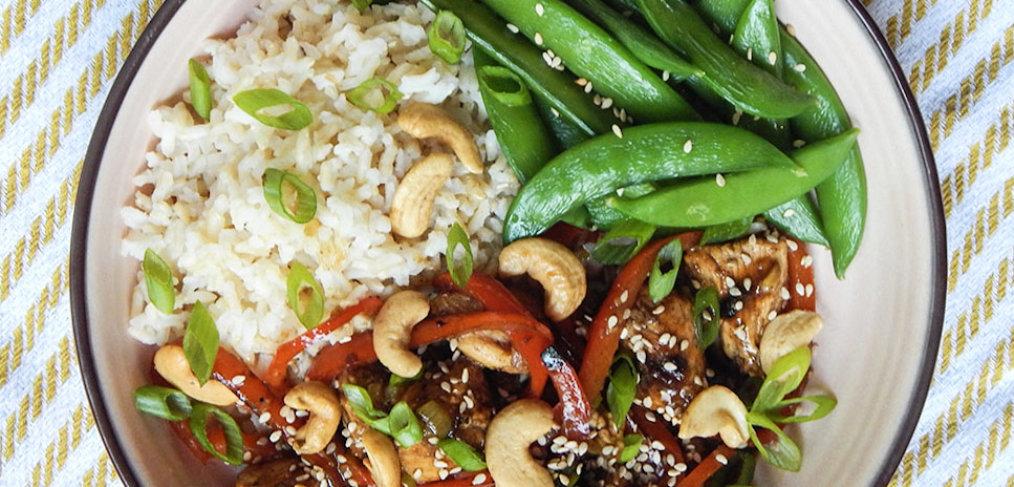 Weeknight Kung Pao Chicken
Makes 4 servings
Weeknight dinners got you down and you're really wanting to get some take-out these last few days of the week! Try out this super simple take-out inspired dinner! Most ingredients you probably have in your kitchen already, so check out those condiments in the fridge, spices in the pantry and use any leftover vegetables to serve alongside this dish that you know should probably cook so it doesn't go bad while you're out celebrating the Labor Day weekend. If you don't have green onions, use cilantro or parsley instead. There are so many ways to modify this dish so that you can minimize or eliminate that end of the week trip to the grocery store!
Marinade:
2 teaspoons rice wine vinegar
2 tablespoon soy sauce
1 pound chicken breast, cut into ¾-inch cubes
1/2 teaspoon ground coriander
1/2 teaspoon ground allspice
1/2 teaspoon crushed red pepper
Sauce:
3 tablespoons soy sauce
2 tablespoon rice wine vinegar
3 tablespoons hoisin sauce
1 /12 teaspoons granulated sugar or coconut sugar
2 teaspoons cornstarch or tapioca starch
1/4 cup water
Remaining Ingredients:
2 tablespoons avocado oil, divided
1 red bell pepper, seeded and thinly sliced
2 large cloves garlic, minced, about `1 1/2 teaspoons
1 tablespoons minced ginger
1/4 cup scallions, sliced thinly – divide the white and green parts, about 4-6 scallions
1/4 cup roasted peanuts or cashews
1 tablespoon toasted sesame oil
Garnish with toasted sesame seeds and sliced green onions and drizzle with toasted sesame oil
Serve with steamed snap peas and rice
In a large bowl whisk together wine, soy sauce, coriander, allspice, and crushed red pepper until combined. Add chicken and toss to coat. Cover and let sit at room temperature for 15-20 minutes.
In a medium bowl, whisk together soy sauce, vinegar, hoisin sauce, sugar, cornstarch/tapioca starch and  water until the sugar and cornstarch are dissolved.
In a large cast-iron skillet or a wok over medium-high heat add 1 tablespoon avocado oil, swirling to coat. Add the bell pepper and cook until softened, about 3 minutes add the garlic, ginger, and white part of the scallions, until softened and fragrant, about 30 seconds. With a slotted spoon remove to a plate or a bowl and set aside.
Add the remaining tablespoon avocado oil to the pan, swirling to coat. Add the chicken and the marinade to the pan and cook until golden brown and cooked through, about 4 minutes. Increase the heat to high and add the sauce and vegetables stirring quickly to thicken the sauce. Add the peanuts/cashews, stirring to combine. Serve with steamed rice. Garnish with the green parts of the scallions and toasted sesame seeds and drizzle with toasted sesame oil, if desired.