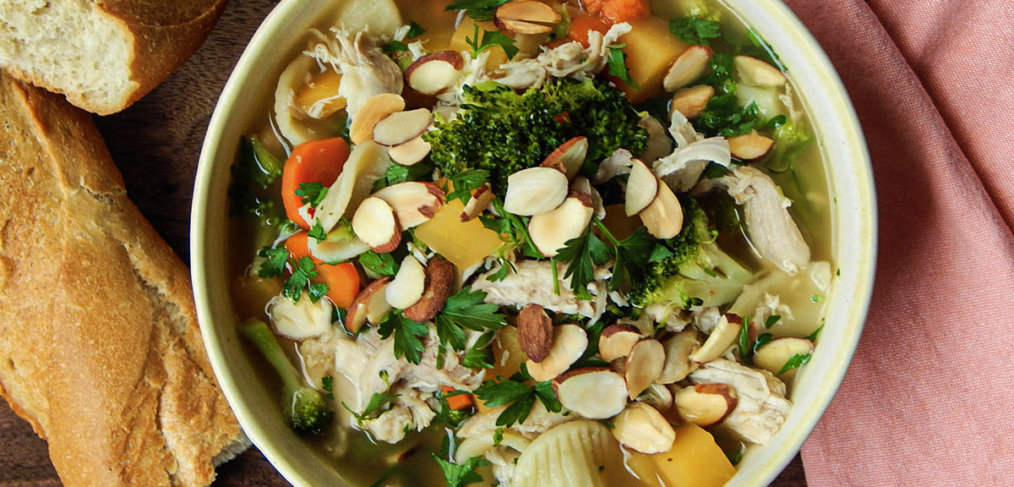 Winter Vegetable and Chicken Soup
Makes 4-6 servings
Winter is coming to a close and winter vegetables are still in season. Now is the time to enjoy the last-minute advantages of these vegetables. Filled with so many nutrients, this winter vegetable, and rotisserie chicken soup really make for a hearty meal on a weeknight or a weekend. Soup is perfect to feed a larger crowd or even to warm up on these crazy weather nights we've been having lately. Serve with some warm crusty bread!
6 cups unsalted chicken broth
1 tablespoon white wine vinegar
1/2 teaspoon sea salt
1/4 teaspoon ground black pepper
1 medium rutabaga, peeled and cut into ½-inch cubes
4 large carrots, peeled and sliced
3 cups broccoli florets
1 cup orecchiette pasta, cooked until al dente
3 cups shredded rotisserie chicken
1/4 cup chopped fresh parsley
1/2 cup toasted sliced almonds
In a large saucepan, bring the chicken broth to a boil. Add the vinegar, salt, and pepper. Add the rutabaga and cook for about 8 minutes or until al dente. Add the carrots and broccoli and cook until all the vegetables are tender.
Stir in the pasta, chicken, and parsley until warmed through. Garnish with toasted almonds and serve immediately.